The complete water level measuring set consists of a well pipe and a tape measure in a special frame with support. The tape measure is connected to the well whistle probe with triple spring end, chain and snap hook.
Operation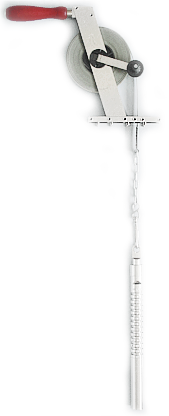 Measuring Set Complete
The well whistle is hollow and has a slit at the top. When the lower end is immersed into the water, a whistling sound is heard through the escaping air, and the depth can be read from the tape measure.
The correct measured value is obtained by adding the number of whistle channels (1cm each) left empty to the read value. If noise is present at the measuring location or if the water level is to be monitored in short time intervals, we recommend the use of an electronic water level meter.
Technical Data
Well Whistle: Nickel-plated brass, channels in cm-increments and clear whistle signal when immersed. Two sizes available:
Outside diameter 27mm, length 310mm (order Number 22)
Outside diameter 15mm, length 375mm (order Number 24)
Measuring Tape: Standard version with polyamide-coated steel tape, cm-graduation, breadth 13mm. Special version with stainless steel tape.
Frame: special frame made of nickel-plated brass for installation on the well pipe. Easy handling and protection of the running belt.
All parts are corrosion-resistant.


Well whistles No. 24 (15mm) and No.22 (27mm)
Order Numbers water level measuring set complete with well whistle No.22
Art.No.
Article
Length
2242
Water level measuring set complete
10m
2243
Water level measuring set complete
15m
2244
Water level measuring set complete
20m
2245
Water level measuring set complete
25m
2246
Water level measuring set complete
30m
Extra charge for well whistle No. 24: €8.00