DataGrabber 5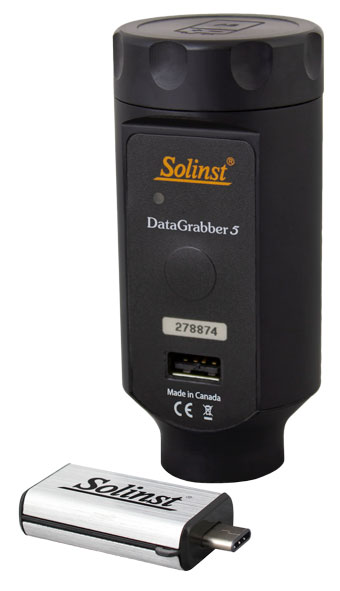 The DataGrabber 5 is a field-ready data transfer device that allows you to copy data from a Levelogger onto a USB flash key (Dual USB & USB-C key provided).
The DataGrabber 5 is compact and very easy to transport. It connects to the top end of a Levelogger's Direct Read Cable, or Slip Fit and Threaded Adaptors are available to allow direct connection to a Levelogger.
One push-button is used to download all of the data in a Levelogger's memory to a USB device. A convenient LED light indicates the operation of the DataGrabber 5. The data in the Levelogger memory is not erased, and logging is not interrupted if the Levelogger is still running. The DataGrabber 5 uses its own replaceable 9V battery.

LevelSender 5 Telemetry
The LevelSender 5 is a simple, low cost telemetry system designed to send data from Leveloggers in the field, to your smart device and PC database via cellular communication.
Initial set up is done through a user-friendly software wizard at the Home Station. There is twoway communication between the LevelSender and Home Station, allowing remote updates.
Each LevelSender 5 device has a single port to connect one Levelogger with an optional splitter that allows the connection of two. A built-in barometer allows barometric compensation of water level data.
LevelSender 5 stations are compact in design, which allows them to be discreetly installed inside a 2" (50 mm) well (see Model 9500 LevelSender data sheet).
STS 5 Telemetry
The STS 5 Telemetry System provides an efficient method to send Levelogger data from the field to your desktop. Cellular communication options give the flexibility to suit any project. STS Systems are designed to save costs by enabling the selfmanagement of data. Alarm notification, remote firmware upgrades and diagnostic reporting make system maintenance simple (see Model 9100 STS Solinst Telemetry System Data Sheet).
RRL 5 Telemetry
The RRL 5 Remote Radio Link is ideal for closed-loop, short range applications up to 30 km (20 miles). The RRL 5 can be linked to an STS 5 telemetry station to change from a closed-loop telemetry system to one which can be accessed from anywhere through internet connectivity. (see Model 9200 data sheet).