P7 Water Level Meter Probe
The P7 Probe is submersible the full length of the tape, therefore, you can measure total well depth in ideal conditions. The sensor at the tip of the probe provides consistent measurements with almost zero displacement. The tape seal plug design allows the probe to be quickly and easily replaced, if required.
Size: 5/8" dia., 5.38" long (16 mm x 137 mm)
Weight: ~4.5 ounces (128 g)

P2 Water Level Meter Probe
The P2 Probe is shielded in design to reduce or eliminate false readings in cascading water. The probe consists of a stainless steel body with a neoprene heat shrink seal. It is not suitable for submergence to any significant depth. Its simple design makes it easy to repair.
Size: 0.55" dia., 7.5" long (14 mm x 190 mm)
Weight: ~7 ounces (200 g)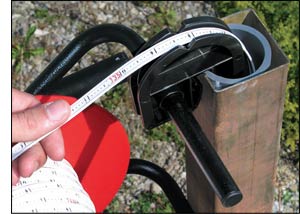 Tape Guide / Datum
A tape guide is provided with each Meter. It protects the tape from damage on rough edges of well casing and ensures easy, consistent measurements, regardless of who takes the readings. It can also provide support on the casing, for small reels.
Power Winder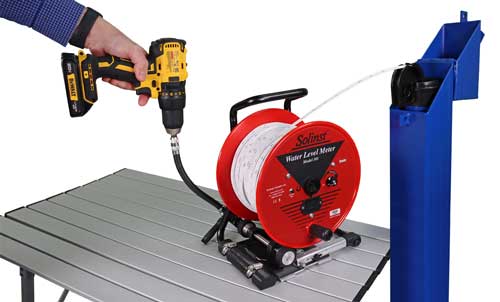 The Solinst Model 101 Power Winder allows ease of use when deploying longer lengths of tape. It is lightweight and easy to attach to the frame of small, medium and large Model 101 Water Level Meter reels (see Model 101 Power Winder Data Sheet).
A standard drill provides power to the Power Winder, which turns the rollers that are in contact with the reel. The drill is used at various speeds, in forward and reverse, to turn the reel and unwind and rewind the tape.