Enhanced Features
Titanium based PVD Coating
Stores up to 120,000 data points
Hastelloy pressure sensor
Improved temperature compensation and response time
The Levelogger Edge is a self contained water level datalogger, using infra-red data transfer powered by a 10 year lithium battery, offering the flexibility of installing by use of a Direct Read Cable, wireline or Kevlar cord. The Levelogger Edge has a memory capacity of 40,000 temperature and water level data points, or up to 120,000 using the compression algorithm in linear sampling mode.
Levelogger Software Version 4.0, written to support the Levelogger Edge, Levelogger Junior Edge,
LTC Levelogger Edge, Rainlogger Edge, Leveloader and is backwards compatible to support the Levelogger Gold series. Version 4.0 offers many features, including the ability to barometrically compensate multiple Levelogger data files simultaneously.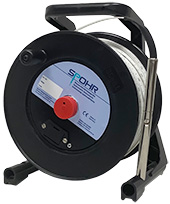 Spohr Lightweight Water Level Meter
Spohr Lightweight Water Level Meters are designed for fast and reliable measurements of water levels in wells, boreholes, observation tubes, tanks, surface water, etc.
The Water Level Meters feature a compact, lightweight plastic reel and frame, making them easy to transport and use in the field.

3001 LTC Levelogger Edge
Conductivity, water level and temperature datalogging
Full range 0-80,000 S/cm
Ideal for salinity and saltwater intrusion studies, tracer tests, agricultural and stormwater run-off monitoring
Levelogger App Interface
Creates a wireless connection between your Levelogger and smart device running the Solinst Levelogger App
Program your Leveloggers to record, or view and save real-time readeings
Download and view data collected by your Levelogger and e-mail it from your smart device