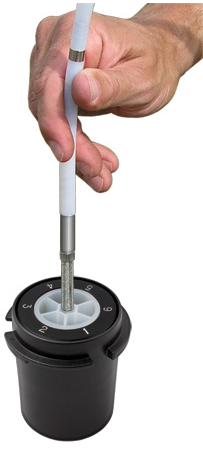 Ideal for CMT Multilevel System and other narrow, low flow applications
Flexible 3/8" diameter design fits almost anywhere
Easy to install and dedicate for water monitoring

The Micro Double Valve Pump has a remarkably small and flexible design. It is a pneumatic pump that uses coaxial PTFE tubing to give high quality samples. At 3/8" (10 mm) diameter, it is small enough to fit in 1/2" (13 mm) ID tubing such as in Waterloo Multilevel System 5/8" open tubes, as well as channels of the Solinst Model 403 CMT Multilevel Systems. Ideal for low flow groundwater monitoring in narrow applications.
Double Valve Pumps

High flow rates
Operate to 500 ft (150 m)
Easy to decontaminate
1.66" and 5/8" (42 mm and 16 mm) diameters
CMT Multilevel Monitoring


CMT Multilevel Systems provide groundwater samples from multiple depth-discrete levels in a single monitoring well. This always allows a better understanding of the three-dimensional flow and distribution of contaminants in the subsurface.