Water level measurement accuracy Solinst is known for, with the addition of convenient temperature profiling.
What sets our Water Level Temperature Meter apart?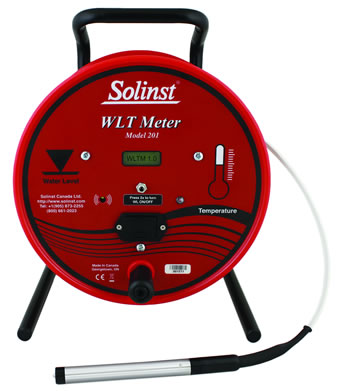 Large temperature range: -20˚C to 125˚C
Temperature resolution of 0.01˚C
PVDF Laser Marked Tape Lengths to 600 m
marked every mm
Deep submergence rating of 300 m
3 Year complete unit warranty
Temperature accuracy is:
+/-0.1ºC from -5ºC to +50ºC
+/-0.5ºC outside of that range

How can the WLT Meter be used?
Profiling temperature in wells, tanks and surface water
Detecting runoff, points of inflow, or other sources of thermal pollution
Early warning of changes in water quality and chemistry, including dissolved oxygen levels and conductivity
Monitoring and predicting changes in aquatic environments and biological activity
Geothermal surveys
The WLT Meter is an excellent tool for geothermal drillers, hydrogeologists, hydrologists, aquatic biologists, ecologists and chemists, and environmental scientists.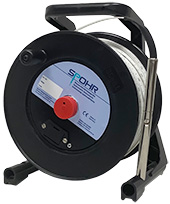 Spohr Lightweight Water Level Meter
Spohr Lightweight Water Level Meters are designed for fast and reliable measurements of water levels in wells, boreholes, observation tubes, tanks, surface water, etc.
The Water Level Meters feature a compact, lightweight plastic reel and frame, making them easy to transport and use in the field.