The Solinst Bladder Pump
Solinst Bladder Pumps are manufactured from 316 stainless steel and have PTFE check balls. The bladder most frequently used is PTFE, however polyethylene bladders are also available. This is the ideal sampling pump for most types of municipal, industrial and general environmental applications, especially where VOC analysis of the sample is important.
The pump body of the standard Solinst Bladder Pump is a convenient 1.66" dia. (42 mm) and comes in lengths of 2 ft and 4 ft (0.6 m and 1.2 m). 1" dia. (25 mm) bladder pumps are also available for narrower applications and for use in the Waterloo Multilevel System. (See Model 401 Data Sheet.)
Portable Bladder Pumps
For less frequent sampling, and to allow access to multiple monitoring wells, even in remote locations, portable bladder pump systems are available.
They are supplied on a free-standing reel. The rugged systems are very convenient and easy to transport. Tubing fittings on the reels and controller are compression fittings, allowing quick set up in the field. The Solinst Model 103 Tag Line can be used to lower and support the pump in the well (See Model 103 Data Sheet).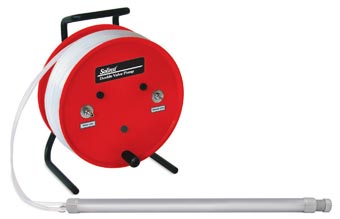 1" (25 mm) Stainless Steel Bladder Pump on Free-standing Reel
Use Without the Bladder
An advantage of the Bladder Pump is the ability to also be able to use it with no bladder. This allows you to continue sampling if you are in the field with no bladder replacements. Simply operate it like a Double Valve Pump (DVP).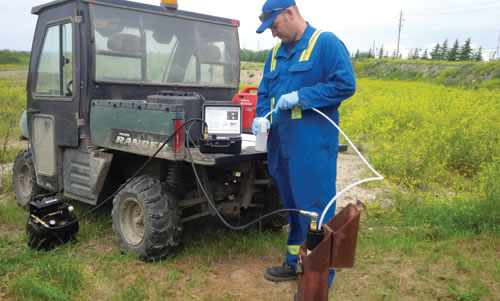 Sampling with a Dedicated Bladder Pump using Portable, Rugged, Easy-to-use, Compressor and Controller
Dedicated Systems
For long term monitoring it is always best to dedicate Bladder Pumps. This avoids cross-contamination and saves time without the need to decontaminate between sampling events. There is the assurance of no air/water contact during sampling, and the confidence that no cross-contamination will occur from the use of portable equipment.
Solinst well caps are designed for ease of use. The vented caps have a quick-connect attachment for the controller unit/air supply. Fittings are provided for both 1/4" OD (6 mm) and 3/8" OD (9 mm) tubing. Each cap comes with a 3 ft (0.9 m) length of discharge line, which is easily replaced, as required.
For water level monitoring there is an access hole to fit a Solinst Model 101 Water Level Meter. or Levelogger. An eyebolt is provided for a pump support cable or for suspension of a Solinst Levelogger, (see Model 3001 Data Sheet) or other device.
Dedicated Well Caps
The caps slip easily onto 2" dia. (50 mm) wells. Adaptors to fit 4" dia. (100 mm) wells are also available. They have quickconnect fittings for the drive and sample tubing.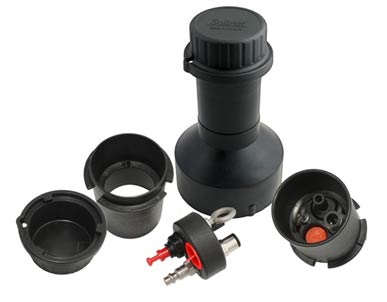 Well Caps for Dedicated Pumps