SPOHR Lightweight Water Level Meter
Spohr Lightweight Water Level Meters are designed for fast and reliable measurements of water levels in wells, boreholes, observation tubes, tanks, surface water, etc.
The Water Level Meters feature a compact, lightweight plastic reel and frame, making them easy to transport and use in the field.
The sturdy construction benefits from a Spohr polyethylene flat tape, proven to be durable and accurate with markings up to every millimeter.
This Spohr Water Level Meter with a plastic reel is a lightweight alternative to Spohr meters that use galvanized steel reels.
Water Level Meter Mode of Operation
The Water Level Meters use a corrosion-resistant probe connected to permanently marked flat tape, mounted on a sturdy reel. They are powered by a single standard 9V battery.
As soon as the zero-point of the probe contacts the water surface a circuit is completed. This sets off a bright LED indicator and audible buzzer simultaneously on the reel.
When the probe is raised slightly above the water level, the LED and buzzer are switched off so that the reading point can be ascertained accurately. The depth is read off the high-precision tape.
High Quality Water Level Meter Design
With a convenient carrying handle and sturdy frame, the freestanding reels are ergonomically designed for ease of use. They are constructed with a very durable, lightweight plastic. The battery is located in an accessible drawer in the front of the reel, allowing quick replacement. The reels are equipped with a light, buzzer, and brake.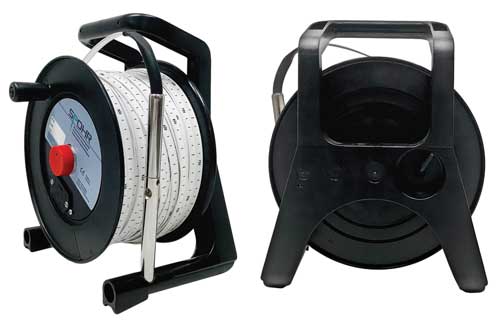 Spohr Lightweight Water Level Meter
Features & Benefits
Lightweight reel made of robust plastic
Compact size:

Dimensions: 31cm high, 23cm wide and 16cm deep
Weight:100m device is about 3kg

Proven Spohr Polyethylene tape with easy-to-read permanent gradations
Available with 15m, 30m, 50m, 80m, or 100m tape lengths
Easy-to-replace 9V battery
Bright light and audible signal
Water Level Meter Applications
Monitoring domestic water well levels

helps maintain supply levels
can signal any issues with the well or pump
gains data that may be required for reporting

Well Driller and Contractor tools

measure water levels during various points of well construction and development
monitor water levels during pumping and other well tests
obtain data for drilling logs

Hydrogeological investigations and research

measuring levels/head helps determine groundwater elevation and the direction of flow
get insight on groundwater recharge and discharge
provides data during aquifer characterization tests
High Quality Polyethylene Flat Water Level Meter Tape
Tape The Lightweight Water Level Meter uses high quality polyethylene flat tape that features two high-tensile stainless steel conductors. The tape is permanently heat-stamped with black markings each centimeter or millimeter, and red markings each meter. Tapes are available in 15m, 30m, 50m, 80m, and 100m lengths.
The tape runs smoothly on the reel, is flexible and hangs straight in wells. The rounded edges reduce adherence to wet surfaces. The stainless steel conductors provide strength and are non-stretch. The tape is easy to repair and splice.

black cm or mm graduation and red meter numbers

Water Level Meter Weights: 15m=1,6kg, 30m=1,9kg, 50m=2,2kg, 80m=2,7kg, 100m=3,0kg
Corrosion-resistant Water Level Meter Probe
The probe is shielded in design to reduce or eliminate false readings in cascading water. The probe consists of a corrosionresistant body with stainless steel electrode and a flexible tape seal. The standard probe diameter is 15mm. A special 12mm diameter probe is also available.

Optional Water Level Meter Accessories
Screw-in ground sensors for measuring the bottom of wells
Screw-in probe tips with snap-hook to attach plummets or bailers
Extra 250 gram weight
For transportation and protection of the water level meters, an optional carrying case is available
Other Water Level Meters
Spohr also offers Water Level Meters with galvanized steel reels in various sizes, with multiple tape length and marking options. A handheld reel is also available.