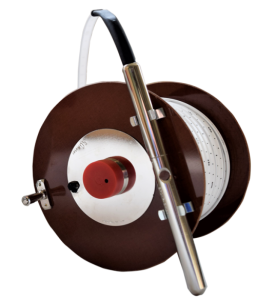 Water Level Meter on hand reel
(up to 50m)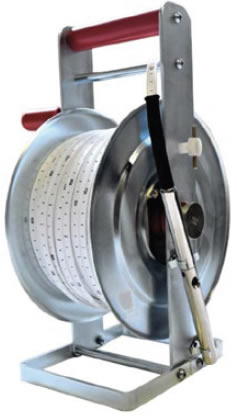 Water Level Meter with
galvanized support frame
SPOHR Water Level Meters are designed for fast, easy and reliable measurements of water levels in wells, bore holes, observation tubes, tanks and surface waters, etc.
Mode of Operation
As soon as the zero-point of the probe reaches the water surface, a high brightness LED and a buzzer at the cable reel are activated simultaneously.
When the probe is raised slightly above the water level, the LED and buzzer are switched off immediately, so that the reading point can be ascertained accurately. The depth is read off the high-precision tape.
Accessories (optional)
Screw in Ground sensors for measuring the bottom of wells
Screw in probe tips with snap-hook to attach plummets or bailers
Extra weight 250gr.
The standard probe diameter is 15mm. A special probe with 12mm diameter is also available.
The high-precision-measuring-tapes are available with cm/mm markings or feet and 1/100th foot markings.
Technical Data:
Tapes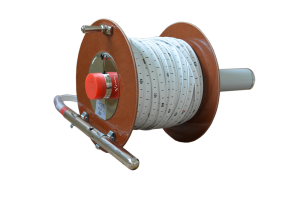 High quality polyethylene flat tape with two high-tensile stainless steel cables with permanent hot-stamped markings:
each cm with numbers each decimeter plus red numbers each metre (Standard)

each mm with numbers each cm in black plus red numbers each metre.

each 1/100th ft with numbers each 1/10th foot in black plus red numbers each foot.
Probe
Diameter standard probe 15mm, length 190mm with electrode of stainless steel; special sealant, flexible and slender bend protection.
Diameter special probe 12mm, length 155mm
Cable Reel
Light-weight hand-reel with break-proof laminated fabric disks for water level meters up to 50m length
Big hand-reel with galvanized front-plates from 60m cable length
Rugged galvanized support frame for water level meters length 80 – 500 m
Water level meters up to 50m length optional also with support frame available
Electronic Circuit
High sensitivity, high accuracy and very long battery life.
Power supply
Three commercial 1,5V batteries Micro AAA providing for a long time of operation; convenient replacement of the batteries.
All parts of the instrument are corrosion-resistant; the instruments are delivered ready for use including batteries.
For transportation and for protection of the water level meters optional leather case are available.