Conductivity & Temperature Display Menu
The display menu is simple to operate. When the unit is turned on, it will begin to display electrical conductivity and temperature readings, in or out of water. If the button is held down for 2 seconds and released, the display moves to the next menu item. Press the button two times quickly in any given screen to achieve the displayed action.

The LCD Display Menu
Other Options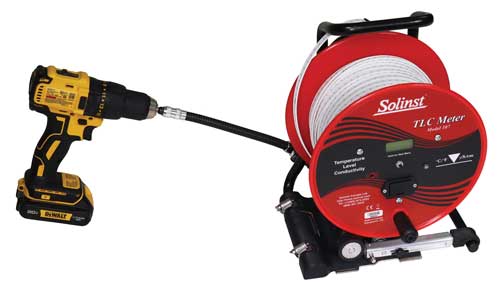 Solinst TLC Meter with Power Winder Installed
to Make Temperature and Conductivity Profiling Applications Easier
Power Winder: Lightweight and easy to attach to small and medium reel frames, the Power Winder is designed to allow effortless winding of longer lengths of tape. Simply uses a standard power drill to operate (see 101 Power Winder Data Sheet).
Carrying Case: Small and medium padded nylon carrying cases are available, as an optional extra. Their design has a convenient shoulder strap, zippered front pocket, zippered top, and a grommet in the base to prevent moisture build-up.
Replacement Parts: Replacement probes, tapes and other spare parts are available.