Water Level Meters
Model 101
For measuring the depth to water in wells, boreholes, standpipes, and tanks, Model 101 Water Level Meters are the industry standard for portable hand operated meters. They are sturdy, easy to use and read accurately to 1/100 ft. or each millimeter.
There are two versions to choose from. The Model 101 P7 Water Level Meter features a pressure-proof probe rated to 500 psi and laser marked PVDF tape. The Model 101 P2 Water Level Meter features an easy-to-repair probe and heat embossed polyethylene tape.
Also available, are the less expensive Model 102 and 102M Coaxial Cable Water Level Meters for use in small diameter tubes, and the basic Model 101B Water Level Meter (see Model 102 and 101B Data Sheets).
Features
| | | | |
| --- | --- | --- | --- |
| | Accurate: | • | Markings each 1/100 ft. or millimeter |
| | | • | Traceable to national standards |
| | | • | Sensitivity adjustable to conductivity |
| | | • | Probes avoid false readings in cascading water |
| | Reliable: | • | Permanent laser markings |
| | | • | Non-stretch PVDF tape with stainless steel conductors |
| | Long Life: | • | Rugged, corrosion proof components |
| | | • | Strong, flexible tapes |
| | | • | Easy to splice and repair |
| | Flexible: | • | PVDF replacement tapes are interchangeable with other meters |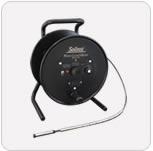 Solinst Model 102 Laser Marked Water Level Indicators have permanent, accurate laser etched markings every 1/100 ft or each millimeter. Providing Solinst quality at a low price, they have probes for use in tubes as small as 1/4" (6mm) in diameter, and a durable, flexible coaxial cable mounted on a sturdy reel. A 102M Mini Laser Marked Water Level Indicator is also available, in 80 ft or 25 m lengths on a small lightweight reel.
The 102 Water Level Meters are powered by easy-access 9V batteries, have an excellent brake, convenient carry handle, and on/off sensitivity switch. Rugged design and Solinst reel make these water level meters ideal for field use.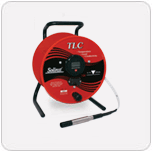 TLC Meter Temperature, Level, Conductivity
A Solinst TLC provides accurate, stable temperature and conductivity measurements displayed on a convenient rotating LCD display. Water level measurements are taken from permanently laser marked PVDF flat-tape, every 1/100ft (or mm) up to 1000ft. (300 m). The flat tape is flexible and hangs straight in application. The TLC Meter is ideal for temperature and conductivity profiling in wells or open water, and for a general indication of chemical contamination levels, salt water intrusion and salinity.