101 P7 Submersible Probe measures water levels and total well depth
More consistent measurements with sensor located at the tip of probe
Solinst PVDF flat tape has increased tensile strength and electrical efficiency
The Solinst 101 Water Level Meter with P7 Probe features an extremely durable, laser marked PVDF flat tape, with an enhanced dog bone design that is thicker, reducing adherence to the side of well casing.
Enhanced Laser Marked Tape Features
Durable PVDF non-stretch tape
Improved electrical properties
Thicker dog bone design prevents clinging to sides of the well
Permanently laser marked every 1/100 ft or each mm
The PVDF flat tape is laser marked every 1/100 ft or each mm; lengths up to 5000 ft (1500 m). New flat tape has increased tensile strength and electrical efficiency by using 6 strands of copper coated stainless steel and 13 strands of stainless steel in each conductor. The P7 Water Level Meter Probe is engineered to allow submersion to 1000 ft. (300 m). Sensor at the tip of the probe provides consistently accurate measurements in wells, boreholes, and cascading water, with almost zero displacement.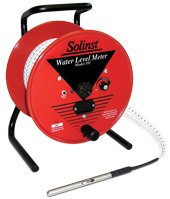 101 P2 Water Level Meter
Solinst 101 P2 Water Level Meters use non-stretch polyethylene flat tape, with heat embossed markings each 1/100 ft or mm. Designed for measuring accurate water levels in wells and boreholes, the rugged free-standing reel is well balanced and ideal for use in the field. The P2 Water Level Meter is available with tape lengths to 1000 ft (or 300 m).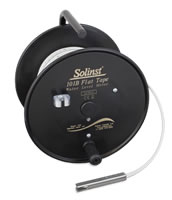 101B Water Level Meter
The Model 101B Water Level Meter is a basic, low cost instrument for portable depth to water measurements. It uses polyethylene flat tape that is permanently heat embossed every centimeter. Tape length options are 30, 60, and 100 m. The stainless steel P1 Probe is extremely robust and is 1/2" (12.7 mm) in diameter. The sturdy reel and handle make measurements easy. The Meter is powered by one 9V battery, which is replaceable by accessing the reel hub.

Laser Marked Water Level Indicators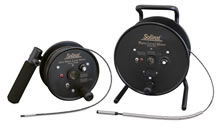 Solinst Model 102 Water Level Indicators have permanent, accurate, laser marked cables. Markings every 1/100 ft or each millimeter.
Accurate Oil/Water Interface Meters

Solinst Model 122 Interface Meter accurately measures LNAPL and DNAPL product layers and Oil/Water interface. They feature a narrow 5/8" (16 mm) probe, and PVDF tape lengths to 1000 ft (300 m).