Pump Tubing
The standard pump tubing is 5/8" OD (16 mm) medical grade silicone, which attaches easily to 1/2" OD (13 mm) down-hole tubing. An adaptor kit, which allows the use of 3/8" OD (10 mm) tubing, provides lower sampling rates. This tubing attaches easily to 1/4" OD (6 mm) down-hole tubing.
To provide high sample integrity, the sample comes in contact only with the tubing. Replacing the tubing between locations avoids the possibility of cross-contamination. To reduce lengthy decontamination procedures, simply dedicate the inexpensive down-hole tubing.
Power Source & Motor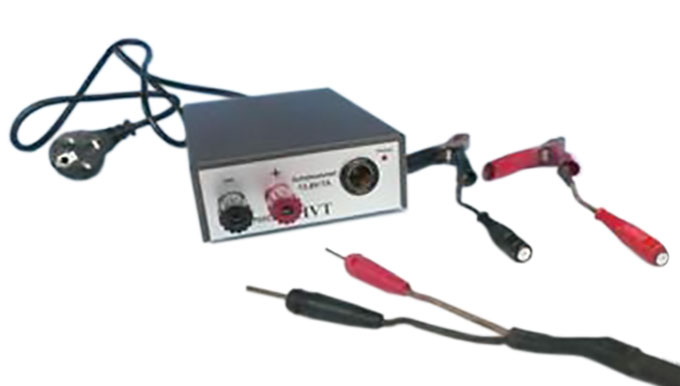 A 12 ft. (4 m) power cord uses alligator clips to connect to almost any 12 volt DC power source that can supply at least 3–5 amps at maximum draw (such as auto, marine or small gel cell battery). Connect an optional 12V Battery Holder to the Pump and conveniently add the battery right to the assembly. The pump may be connected directly to your vehicle battery.
Optionally, the power cables can be provided with additional banana plugs to use a voltage converter and run the pump with 230V AC.
The variable speed motor is reversible, has an easy-toreset circuit breaker (no fuse to replace), and has reverse polarity protection to prevent damage to the pump.
Sampling Rates
The Model 410 Peristaltic Pump has variable pumping rates, using two different sizes of silicone pump head tubing. With the standard 5/8" OD (16 mm) tubing it delivers 3.2 L/min.
The 3/8" OD (10 mm) tubing adaptor kit allows a sample rate as low as 40 ml/min. This low rate is ideal for low-flow sampling and the filling of small sample bottles.
Note
To decontaminate the tubing, a cleaning solution of water and phosphate-free cleaner is pumped through. Then it should be rinsed with deionized water in the reverse direction.