The Solinst 12V Submersible Pump provides an efficient means of purging and obtaining groundwater samples from monitoring wells.
The 12V Submersible Pump and 12V Pump Controller are lightweight, portable, and easy to set up, deploy and operate. There is also the option to dedicate the pump using a specially designed well cap. The Pump's sleek, short design ensures it fits easily down wells without hang-ups.
The Solinst 12V Submersible Pump is capable of pumping groundwater from 36.5 m (120 ft) below ground surface, with flow rates up to 13.5 L/min (3.6 US gpm) in shallow conditions.
Solinst 12V Pump Design and Operation
The Solinst 12V Submersible Pump system comprises the 12V Submersible Pump with cable, 12V Pump Controller, sample tubing (sold separately), and a user-supplied power source.
The 12V Submersible Pump cable simply connects to the 12V Pump Controller, which then clips to a 12V power source (sourced separately). The 3/8" (9.5 mm) ID LDPE sample tubing is pushed onto the barbed fitting on the 12V Pump.
Convenient LED lights on the Controller indicate the status of the 12V Submersible Pump system, including high or low battery voltage, proper battery connection, normal operation and maximum flow rate. It has an easy-to-reset circuit breaker (no fuse to replace).
Simply turn the dial on the 12V Pump Controller clockwise to increase the voltage to the Controller, which turns the Pump's motor faster and increases the flow rate.
12V Submersible Pump Features
Very simple to operate and adjust from high to low flow rates
Smooth, short (6" nominal) Pump design avoids getting stuck in wells that aren't straight or plumb
Fits inside Nominal 2" OD Sched. 40 or 80 PVC Pipe
Convenient LED light indicates 12V Pump Controller status and Pump operation
Lightweight, compact, portable system; also a dedicated well cap option for longer term projects
12V Submersible Pump Applications
High and low-flow groundwater sampling for general chemistry
High purge rates ideal when sampling using three volume purge protocol
Useful when performing constant head tests in environments with high K (hydraulic conductivity)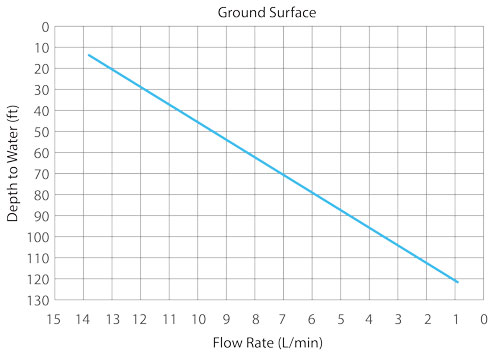 Accessories and Power Options
Packers: Save time and reduce costs by isolating sampling zones and minimizing purge volumes. The 800M Mini Packer Assembly is designed to easily connect directly to the Pump's intake using an adaptor. (See Solinst 800 Low Pressure Packers Data Sheet).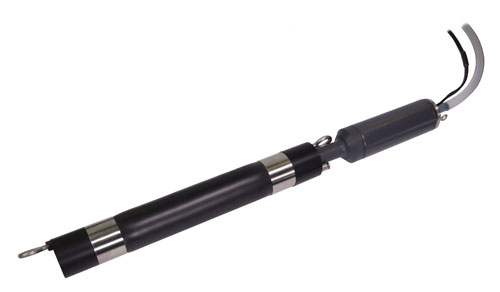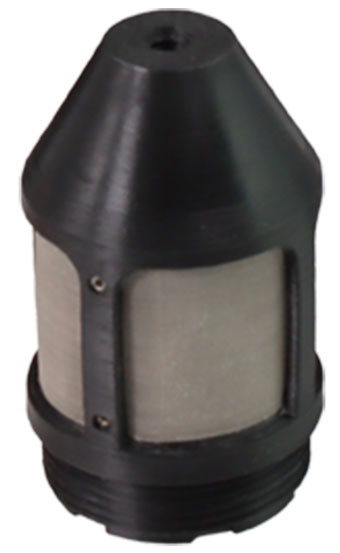 Disposable In-Line Water Filter: For use in environments with high suspended solids. Ideal for preventing sand ingress to the pump. Simply threads onto the Pump's intake.
Tag Line: Convenient reel-mounted marked cable, for measured depth deployments. (See Solinst Model 103 Data Sheet).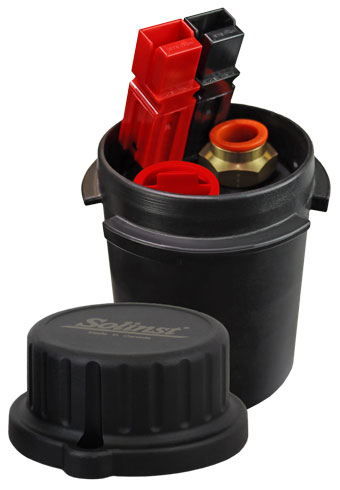 Dedicated 2" Well Cap: For longterm monitoring projects and to avoid cross-contamination or decontamination between wells, a 2" well cap assembly is available for dedicated deployment of the 12V Pump. The assembly includes a hanger bracket to support the Pump weight and quick-connect fittings for the sample tubing. It also accommodates the Pump cable and connector to the 12V Pump Controller. There is an access hole to fit a Solinst Water Level Meter or Levelogger. Adaptors to fit 4" wells are also available.
Power Source: A 2.3 m (7.5 ft) power cord uses alligator clips to connect to almost any 12 volt DC power source that can supply at least 45 amps at maximum draw (such as a deep cycle 60 amp AGM battery or higher, or a car, truck or marine battery).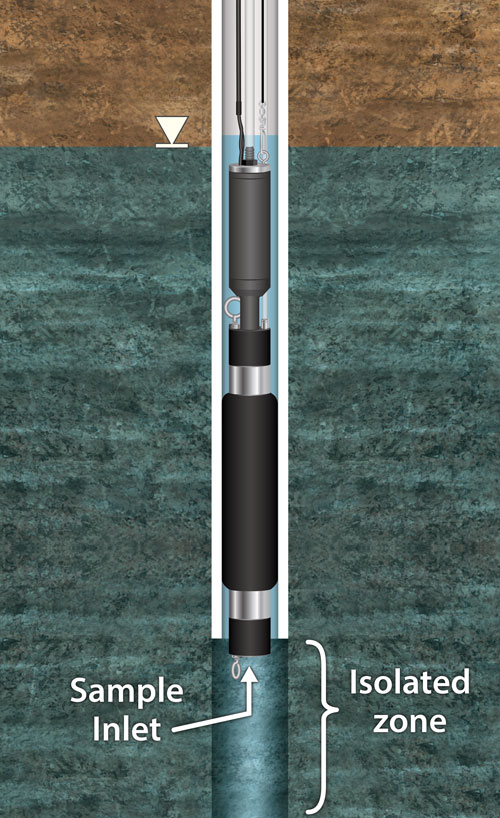 A Model 800M Packer can be used to isolate the sampling zone and reduce purge volumes.
415 12V Submersible Pump Specifications
Sampling Depth:
As much as 36.5 m (120 ft) below ground surface
Flow Rates:
Up to 13.5 L/min (3.6 US gpm)
Pump Cable Lengths:
25, 50, 75, 100 and 130 ft (7.5, 15, 23, 30 and 40 m)
Pump Cable Weight:
3.5 kg ( 7.8 lbs) (for 130 ft (40 m) cable length)
Wetted Materials:
ABS pump body, 304 stainless steel motor, impeller and eyebolt, poly-propylene discharge outlet and hose barb, nitrile/ buna o-rings and seals, PVC jacket electrical wire
Pump Size:
4.78 cm OD x 13.97 cm long (1.88" x 5.5")
Pump Weight:
0.8 kg (1.8 lbs)
Controller Size:
33 cm x 13 cm x 17 cm (13" x 5" x 6.5")
Controller Weight:
3.4 kg (7.5 lbs)
Controller Cable Length:
1 m (3.5 ft)
Power Source:
12V Deep Cycle 60 amp AGM Battery or larger, or vehicle or marine battery
Voltage Required:
12.5V–15V at source
Power Draw:
20mA (when dial is OFF), 3A (dial is at 1) to 36A (dial is at MAX (10))
Max. Run Time:
Continuous, as long as Pump fully submerged during operation
Warranty:
12V Submersible Pump: 90 Days
12V Pump Controller: 3 Years