High Quality Samples
Model 615 Drive-Point Piezometers have a stainless steel, 50 mesh cylindrical filter-screen, within a 3/4" (20 mm) stainless steel drive-point body, screen support and an optional fitting for attachment of sample tubing.
The 615 N or 615 SN, designed without a tubing barb, is to be used for water level measurements. This saves money and provides better access for Water Level Meters.
The 615 or 615 S has an inner barbed fitting for 5/8" OD x 1/2" ID (16 mm x 12 mm) LDPE or PTFE-lined sample tubing. This prevents sample water from contacting the extension rods, and maintains high sample integrity, even when inexpensive galvanized steel extensions are used.
The 615 C is ideal for soil vapor sampling. Where an air-tight connection is most desirable, the compression fitting option allows users to attach 1/4" (6 mm) sample tubing directly to the top of the screened portion of the drive-point.
The 615 S and 615 SN shielded drive-points have a single use, 1-1/2" (38 mm) dia. shield to avoid smearing and plugging of the screen during installation. The strengthened connector at the top of the drive-point acts as an annular seal, which avoids contamination from higher levels in the hole.
Stainless Steel Drive-Point Piezometers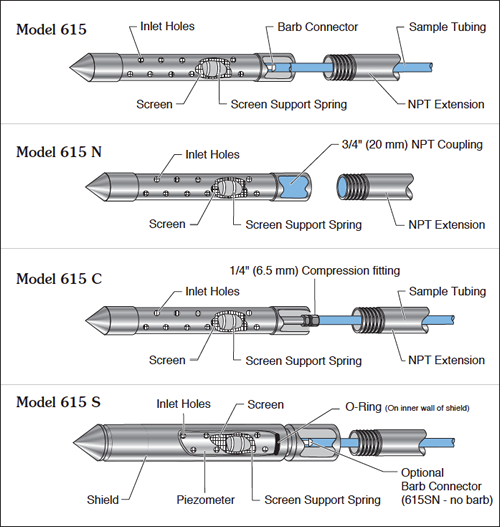 Solinst Drive-Point Piezometers are available in five different configurations; the 615 with a barbed fitting, the 615 N with no barbed fitting, the 615 C with a compression fitting, the 615 S with a barbed fitting and shield, and the 615 SN with a shield and no barbed fitting.