Reels



Model 101 P7 Water Level Meter
(Laser Marked PVDF Tape)




Model 101 P2 Water Level Meter
(Heat Embossed Markings on Polyethylene Tape)
With a stand-alone design, convenient carrying handle, and sturdy probe holder, the standard reels are ergonomically designed for ease of use. They are robust and smooth running. The battery is housed in a convenient drawer in the front of the reel, allowing quick replacement. The reels are equipped with an on/off sensitivity switch, light, buzzer, battery test button, brake and a tape guide stored on the frame.
Length Options
Solinst Model 101 P7 and P2 Water Level Meters are available on reels as shown below, in the following standard lengths:
Small Reel

*

100 ft.
30 m

*

200 ft.
60 m

*

300 ft.
100 m
Medium Reel

*

500 ft.
150 m

*

750 ft.
250 m

*

1000 ft.
300 m
Large Reel
1250 ft.
400 m
1650 ft.
500 m
2000 ft.
600 m
* Polyethylene tapes are only available in these lengths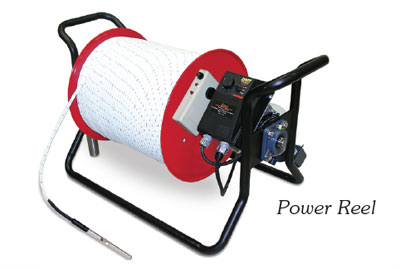 Power Reels: Power reels can be very useful to allow faster or less strenuous operation of longer lengths of tape.
Carrying Case: Small and medium padded nylon carrying cases are available, as an optional extra. Their design has a convenient shoulder strap, zippered front pocket, zippered top, and a grommet in the base to prevent moisture build-up.
Replacement Parts: Replacement probes, tapes and other spare parts are available.