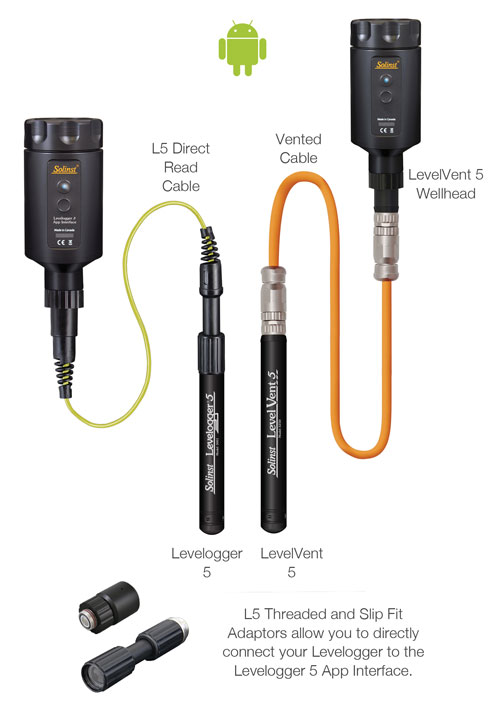 The Levelogger Direct Read to Optical Adaptors
allow you to directly connect your Levelogger
to the Levelogger App Interface. Threaded and slip fit options.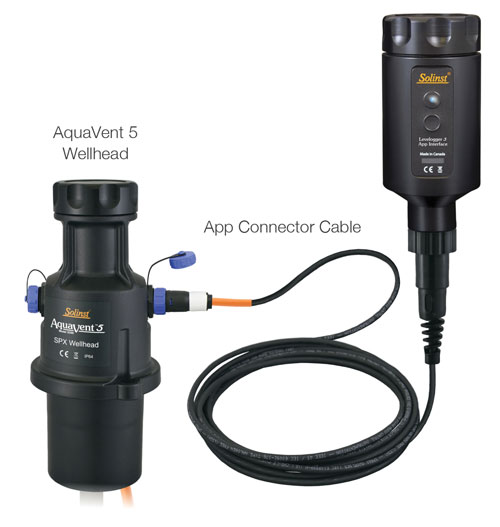 The App Interface for the Levelogger Series uses Bluetooth® wireless technology to connect a Solinst datalogger to your Android™ smartphone or tablet. Once connected, you can program the datalogger, or view and download data using the Solinst Levelogger App.
Simple and Convenient Operation
The App Interface is lightweight, compact in design, making it highly portable - excellent for field use. It runs on four 1.5V AA lithium batteries that are easy to replace. The Interface has a power button to turn it on and off, and there is an auto-off after 10 minutes of inactivity. A LED light indicates its status.
Operation is simple:
Download the Solinst Levelogger App on your smart device. The app is available as a free download on Google Play™.
Connect the Levelogger App Interface to the top end of your Levelogger's Direct Read Cable or Adaptor, or AquaVent Wellhead Connector Cable, and turn it on.
Enable Bluetooth on your smart device and pair the Levelogger App Interface to your device.
Launch the Solinst Levelogger App and connect to your datalogger.
Once you are finished downloading or programming your datalogger, disconnect the App Interface, and connect to a datalogger at your next monitoring location.
Levelogger App Interface Specifications
Compatibility:
AquaVent, Levelogger Edge, Barologger Edge, Levelogger Junior Edge, LTC Levelogger Edge, Rainlogger Edge, as well as Levelogger Gold, Barologger Gold, Levelogger Junior, LTC Levelogger Junior, and Rainlogger.
IP Rating:
IP 64 (dust and splash resistant)
Materials:
Black Delrin®, 316 stainless steel
Operating Temperature:
-20ºC to +50ºC
Batteries:
4 x 1.5V AA replaceable lithium batteries
Battery Life:
500 full Levelogger downloads @ 21ºC
Typical Bluetooth Comm. Range:
up to 30 ft (10 m)
Size:
ø 2.25" x 4.875" (ø 57 mm x 124 mm)
Weight:
13.7 oz. (388 grams)

The Bluetooth® word mark and logos are registered trademarks owned by Bluetooth SIG, Inc. and any use of such marks by Solinst Canada Ltd. is under license.
Android and Google Play are trademarks of Google Inc. The Android robot is reproduced or modified from work created and shared bvy Google and used according to terms described in the Creative Commons 3.0 Attribution License.