4G LevelSender with Built-in SIM Card and Barometer
PLUS: Cellular Data Plan Optimized for Data Monitoring with Low Rates
Solinst Data Plans starting from $4.50 USD Monthly
Simplified Setup

LevelSender SIM APN Setup completed in advance by Solinst. On receipt, you only need to input your email account credentials, then activate!

Access to Wider Network Coverage

Solinst SIM card scans multiple service providers, automatically selecting the strongest signal for the location.

Eliminate Cellular Provider Account Frustrations

Avoids having to open an account with a single provider (who may have location coverage limitations) and overpaying for unused data!

Low-Cost

Highly competitive Data-only rates, direct billing monthly or annually.
The 9500 LevelSender 4G with SIM Card, comes pre-programmed and installed, providing you a simplified set-up. It essentially makes the LevelSender a simple plug and play device. You still have the option of a 9500 4G LevelSender without the SIM card, if you prefer to setup the cellular accounts yourself with local network providers. However, this New Solinst SIM card with account removes much of the work for you – eliminating the selection of a provider and organizing a data account. Solinst is also offering just the SIM card for those clients who already have LevelSender units and wish to change to the convenience of the Solinst plan. If you are interested in taking advantage of a low cost Solinst SIM Card Plan, designed to meet the needs of environmental data monitoring requirements, please contact Solinst. Why pay for more data than you need?
Software and Firmware Provides Further Enhancement
LevelSender Software Version 1.2.0 and Firmware Version 2.002 allow new and current LevelSender 5 Telemetry Systems (sold after November 2020) to take advantage of some great new features, including:
Internal barometer activation

Enable the built-in barometer to report automatically compensated Levelogger water level data.

Simplified datalogger set up options

Easily program connected dataloggers to record independently as a back up and set high and low level alarms.

More data export options

Export your data as .csv files for use in your own programs, or use FTP to transfer data reports to your own server.
Already Own Leveloggers? Add Low Cost Telemetry Today!
Eliminate going to the field to download your Levelogger data. Quickly and easily add cellular telemetry to your Levelogger monitoring wells. The LevelSender 5 is designed to connect to Direct Read Cables and Leveloggers, upgrading your current installation by adding cellular telemetry at an affordable price. The LevelSender is compact in design, and is simple to setup and maintain. Leverage your current Levelogger 5 assets and increase your efficiency by adding a LevelSender.
Receive email or SMS notifications
Data sent to your smart device & PC
Simple setup, operation & maintenance
Low cost, compact design
Compatible with Levelogger® hardware & Direct Read Cables
Solinst 4G LevelSender 5 now includes Worldwide Cellular Connectivity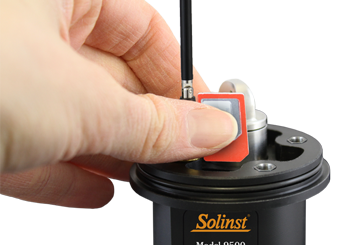 GEORGETOWN, ON – May 19, 2022 – Solinst Canada Ltd. is pleased to announce a partnership with CityKinect that enables global cellular connectivity to our Model 9500 4G LevelSender 5 Telemetry Systems. The LevelSender 5 offers a very simple and inexpensive means to collect water level data from remote Solinst dataloggers.